Life Counselling with Systemic Vedic Astrology
The Astrology Distance Learning Course
Vedic astrologer opens up a diverse and fascinating professional field for you. The need for life counselling is increasing more and more in these days of rapid change. With Vedic Astrology you have a profound approach at your disposal with which you can supplement your previous consulting services or work on your own.

The Teaching Material for
Astrology Distance Learning Course
---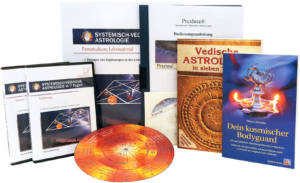 1 workbook (12 lessons with question section)
a book "Vedic Astrology in Seven Days" (Marcus Schmieke)
a book "Your Cosmic Bodyguard" (Marcus Schmieke)
Systemic-Vedic Astrology in 7 Days (4 DVDs, approx. 7 hours)
Prashna® Basis – Software for Vedic Astrology
(Will be sent to you via a link for download. This software only works with Windows operating systems, from Windows XP or above!)
the Astrology turntable
Training Levels
Systemic-Vedic Astrology
---
Complete training: Basic training in Systemic-Vedic Astrology (approx. 12 months)
Conclusion: a written horoscope analysis in the form of a customer consultation
Systemic-Vedic Astrology
Distance Learning at a Glance
---
Requirements: No school requirements
Degree: Certificate or final diploma from the Vedic Academy
Course start: Anytime
Scholarship: up to 500,- Euro possible, more information under www.bildungspraemie.info
Registered: at the National Centre for Distance Education (Staatliche Zentralstelle für Fernunterricht – ZFU) under the number II/169 (Systemisch-Vedische Astrologie)
Your Astrology Instructor:
Yamuna Gäbler
---
Born in Croatia on May 1, 1977, she began searching for a deeper understanding of life and human destiny while still at school. Her search led her to live for several years in Hindu temples, where she intensively studied the Vedic (Bhakti) scriptures and above all exercised spiritual practice in everyday life. She has been practicing Bhakti Yoga and Mantra Meditation since 1994. Her desire for synthesis between spiritual life alignment and the material concerns of this world has led her to study Vedic Astrology in recent years. She graduated from the Vedic Academy in 2003 and from Florida Vedic College, USA, in 2005. Since 2006 she has been working full-time as a consultant and lecturer in Vedic Astrology.
Astrology Training: Educational Goals and Contents
---
Life Counselling with Vedic Astrology
The Vedic astrologer training, which was developed by Marcus Schmieke, opens up a diverse and fascinating professional field for you. The need for qualified life counselling is increasing more and more in today's times.
A much sought-after service
Many of our students have built up a successful full-time or part-time existence with astrological consulting. In 12 lessons (approx. 12 months) we teach you the basis for professional astrological consultations.
The Queen of Sciences
Astrology is considered the queen of science in Vedic culture. With its help you can penetrate deeper into the secrets of Vasati, Ayurveda and Mantras.
The Basics of Vedic Astrology
With the development of Systemic-Vedic Astrology (SVA) a revolutionary concept has succeeded, which sorts out all insignificant factors and concentrates on the essential information of a horoscope. This makes it possible to teach the complete basics necessary to apply Vedic Astrology in both private and professional life within a relatively short time.
The Strengths of Systemic-Vedic Astrology:
Concentrating on less than 20% of the information contained in a horoscope provides more than 80% effectiveness in predicting important life events.
For every karmic weakness discovered in a person's horoscope, effective astral tools are available to reduce the negative influences and strengthen the positive ones.
In the Systemic-Vedic Astrologer training you will acquire the following skills:
create a complete horoscope in a short time
astrologically predict important events in life
determine the exact time of a person's birth
determine the right time for important events
answer questions on the basis of the time of the question
recognize karmic predispositions of diseases in the horoscope
propose appropriate karmic corrective means
Lesson 1:
Signs, houses and planets
Using the Prashna® Astrology Software
Fundamentals of Vedic Astrology and astronomy
Western and Vedic Astrology
Elements of a horoscope
The spiritual meaning of the planets
Lesson 2:
The qualities of the planets, houses and signs
Spiritual meaning of the signs of the zodiac
Lesson 3:
The functional nature of the planets
The astrology hub
The significations of the planets, houses and signs
Effect of planets on planets and houses
Aspects, attacks and conjunctions
Spirituality in the horoscope
Lesson 4:
The strength of the planets
How do you determine the strength of a planet?
The interaction between strength and functional nature of the planets
Conjunctions and aspects
Different types of weakening of the planets
Lesson 5:
The harmonic subcharts of the 12 houses
Your own horoscope for different areas of life
Charts for wealth, health, children, life, marriage, relationships, profession, etc.
Placement of the karmic axis (Rahu and Ketu)
Lesson 6:
The temporal determination of events
Planetary periods
The Nakshatras – Vedic lunar astrology
Lesson 7:
The systematic analysis of a horoscope
Ten steps to the interpretation of a horoscope
Examples of horoscope interpretations
Lesson 8:
Basics of medical astrology
How to find health problems?
Medical significations of planets, houses and signs
Determination of the Ayurvedic constitution
Lesson 9:
Character and behaviour analysis
How do you determine the character or general behaviour of a person, their relatives and family members from the horoscope?
Birth time correction
Lesson 10:
Corrective and countermeasures for astrological attacks in the horoscope
The five most important means of correction
Mantras, colours, gems, number yantras, active compassion
Spiritual affirmations to strengthen and transform the planets
Lesson 11:
Muhurta: Determining the right time
How to determine favourable time for important events in life, such as weddings, conclusion of contracts, start of construction, start of therapies, etc.
Principles of Mundan Astrology (politics, finance and world history)
Lesson 12:
Advanced analysis method
How do you determine the events to be expected for any given period in the future?
Advanced analysis method to determine an event horizon for individual days, weeks, months and years
Prashna: Answering current questions without a birth chart
Information Material for Download
---
When booking this distance learning course, it is possible to redeem a bonus voucher from the Education Award Programme of the Federal Ministry of Education and Research (Bundesministerium für Bildung und Forschung). In this case you can apply for a grant of up to 500,- €. Please note that the award voucher must be issued before registering for distance learning. Otherwise it will not be redeemed by the issuing institution and the full seminar fee will be due. Further information can be found at www.bildungspraemie.info.
Einführung in die systemisch-vedische Astrologie

Das Ziel der vedischen Astrologie

Die Grundlagen der systemisch-vedischen Astrologie

Die Bedeutung der Häuser mit ihren Lebensbereichen

Westliche vs. vedische Astrologie

Das Orakel der Palmblattbibliotheken

Mahabote – Ein Spiegel des Bewusstseinsraumes des Menschen

Vedische Planetenessenzen – Das eigene Potenzial leben

Spirituelle Astrologie: Finden Sie Ihre Lebensaufgabe mit Hilfe der Tierkreiszeichen