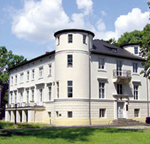 During the last decades vedic sciences like Yoga, Ayurveda, Vasati and Vedic Astrology moved more and more into the awareness of modern man. Vedic knowledge offers us practical guidelines for a healthy and successful. At the same time it points us towards universal spiritual principles that define the ultimate meaning of our activities and form the basis of unity among men.
With its online courses, congresses and other projects the Veda-Academy endeavors to make this knowledge available in Europe and abroad in a relevant way.
We thank you for visiting us and hope you enjoy reading our website!